Car rental Tbilisi, Tbilisi airport, Kutaisi, Kutaisi Airport, Batumi, Batumi Airport.
Gamarjoba 🇬🇪 welcome to Georgia!
Travel to Georgia – Country of Life 🍇 Homeland of Wine 🍷 Beautiful Nature and People 👪 Delicious Food 🍴 Amazing Caucasus Mountains 🗻 ⛷️🏂 Highest Villages in Europe 🏰🏡 Fascinating Black Sea resorts 🏊⛱️ Discover and Explore Georgia with us ✈️ 🚐 🚙 🚴 ⛵
Rental Auto offers Transportation Services & Car Rental in Georgia and Armenia. Wide variety of Rental Cars: Economy and Compact, Standard and Medium, SUV and Crossover, 4×4 Jeep, Minivan and People Carrier, Minibus and Bus, Premium and VIP, Luxury and Business class, Convertible (cabriolet), Sports car. We offer different types of cars for every situation and our fleet is updated regularly to suit your needs. Various car rental options including: self-drive, chauffeur-drive, airport transfer services and special events rentals.
Hire a Car, Minivan or Minibus in Tbilisi, Kutaisi, Batumi, Kazbegi and at international airports with 24/7 service and feel free and comfortable on Georgian roads with full coverage insurance. Our cars are in perfect conditions, we care about your comfort and safety.
For reservation or additional information please contact us
TEL: (+995) 593 093 093
Rent a car in Georgia with Rentalauto Price Guarantee, compare and save using our car rental service
First time in Georgia we accept Crypto payments ฿, rent a car and pay with any cryptocurrency
Cheap car rental in Georgia, Low price car rental deals from 20 euro / 24 usd!
All inclusive rates, No hidden fees and charges;
Free car insurance and Unlimited mileage;
Additional driver for free;
24/7 service and road assistance, Driver service;
Reserve now pay Later! No booking fee, Free Cancellation;
Automatic transmission cars for rent;
Discount Card for Fuel for free;
A fair Fuel policy (full to full)
Convenient pickup and drop-off locations, Rent a car in Tbilisi and we will bring the car to your location
Use our accessories while driving in Georgia:
Cell phone charger in every car (for free)
GPS navigation (for additional cost)
Bluetooth and FM transmitter
Baby seat (for additional cost)
Driveway to Ushguli – Lentekhi on rental car is strictly prohibited!
Driveway to Tusheti, Omalo, Shatili regions is allowed on some cars. Please inform in advance if you plan to drive this regions.
Deal of the Day
pay with cryptocurrency and receive 2% discount
Rentalauto – Rent a Car, Minivan or Minibus in Georgia. Drive in Georgia and Armenia (with special permit). Cheapest

Car rental Tbilisi, Kutaisi, Batumi, Kazbegi, Telavi and International Airports of Georgia.
Car Rental Tbilisi: Rent car in Tbilisi and Tbilisi Airport. Pick-up and Drop-off in Tbilisi for Free.
Our Cars for Rent in Tbilisi:
Nissan X-trail, Mercedes-Benz A Class, Toyota Noah, Porsche Boxster, Mitsubishi Delica, Toyota Prius, Mitsubishi pajero IO, Mercedes-Benz S Class, Toyota Camry, BMW X5, Mercedes-Benz Viano, Nissan Serena, Lexus GX , Toyota Land Cruiser Prado, Ford Mustang, Hyundai Elantra, Toyota Sequoia, Ford Escape, Hyundai ix35, Toyota Highlander, Lexus RX, Suzuki Grand Vitara, Honda Insight, VW Jetta…
Car Rental Kutaisi: Rent car in Kutaisi and Kutaisi Airport. Pick-up and Drop-off in Kutaisi for Free, Kutaisi Airport 10 Euro.
Our Rental Cars in Kutaisi Airport in Kutaisi:
Mitsubishi Pajero IO, Chevrolet Tracker, Toyota Prius, Toyota Vitz RHD.
Car Rental Batumi: Rent Car in Batumi and Batumi Airport. Pick-up and Drop-off in Batumi for Free.
Our Rental Cars in Batumi:
BMW 7 Series, Toyota Prius
---
VIP Car rental and transportation services in Georgia: Tbilisi, Kutaisi, Batumi international airports. We offer Chauffeur service, transfers in Georgia and Daily tours from Tbilisi, Batumi, Kutaisi with Business Class Minivan, Luxury Sedan, SUV 4×4, Sports car, convertible and even Electric car. Executive and Luxury cars with driver at your service. Chauffeur Service and VIP transfer to/from Tbilisi airport to any direction of Georgia, Armenia and Azerbaijan.
Business class sedan Mercedes S class w222 amg
Mid-size luxury SUV Mercedes-Benz GLE
Luxury SUV Range Rover Autobiography
Full-size SUV Toyota Sequoia (7 seater)
7and 7+1 seater business class minivans Mercedes V class and Mercedes-Benz Vito
Sporty pony car Chevy, Chevrolet Camaro
Fully Electric The Tesla Model 3
Convertible Ford Mustang, BMW 428 and BMW 328
Contact us: (+995) 593 093 093  whatsapp / viber / telegram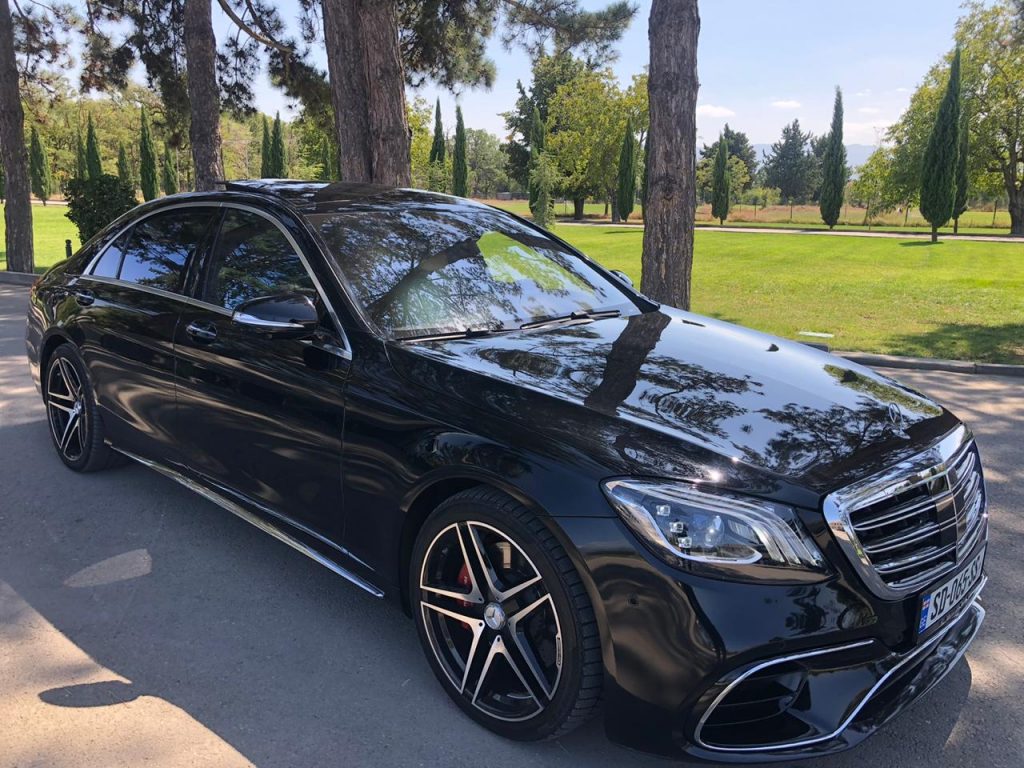 ---
We also offer Transfer services and Individual / Group Tours around Georgia. Transfers with comfortable Minivans and Minibuses in Georgia: from / to Tbilisi Airport – Tbilisi – Batumi – Batumi Airport – Kutaisi – Kutaisi Airport – Kazbegi – Mestia – Telavi – Signagi – Kvareli – Borjomi – Martvili – Zugdidi… At your service professional drivers and large car fleet, Minivans (up to 9 passenger) and Minibuses (up to 20 passengers). Your safety is our priority and punctuality is most important for us. Order our transfer service and Enjoy your travel.
Private transfers from Tbilisi to any direction:
Tbilisi to Gudauri from 90 $ Total.
Tbilisi to Kazbegi from 100$ Total.
Tbilisi To Batumi or Batumi to Tbilisi (Minivan up to 8 passengers) 180-200$ Total.
Tbilisi Airport to Batumi or Batumi airport (Mercedes vito/viano for 8 passengers) 190-200$ total
Tbilisi Batumi or Batumi Tbilisi with business class Van Mercedes-Benz V class 300$ total (max 7 passengers)
Rent car Georgia. Rent car in Tbilisi, Kutaisi, Batumi and at International Airports. Like us on Facebook, pay with crypto and enjoy 2% discount until 1.09.2022 use code –

RENTALAUTO 2022

– while booking. Find us on Facebook
Прокат автомобилей в Грузии: Тбилиси, Батуми, Кутаиси. Прокат авто в аэропортах Грузии
Индивидуальные и групповые туры по всей Грузии: Тбилиси, Батуми, Сигнахи, Казбеги, Кутаиси, Местиа, Боржоми…
Для информации пожалуйста свяжитесь с нами
Read articles and news about us on our Blog:
Rent a car in Georgia, rent car Tbilisi
Rent a SUV / 4WD jeep car, 4×4 car rent Georgia
Hire a Minivan in Tbilisi and in Georgia (with or without driver)
Rent cabriolet, convertible, sport car Porsche Boxster for rent in Tbilisi.